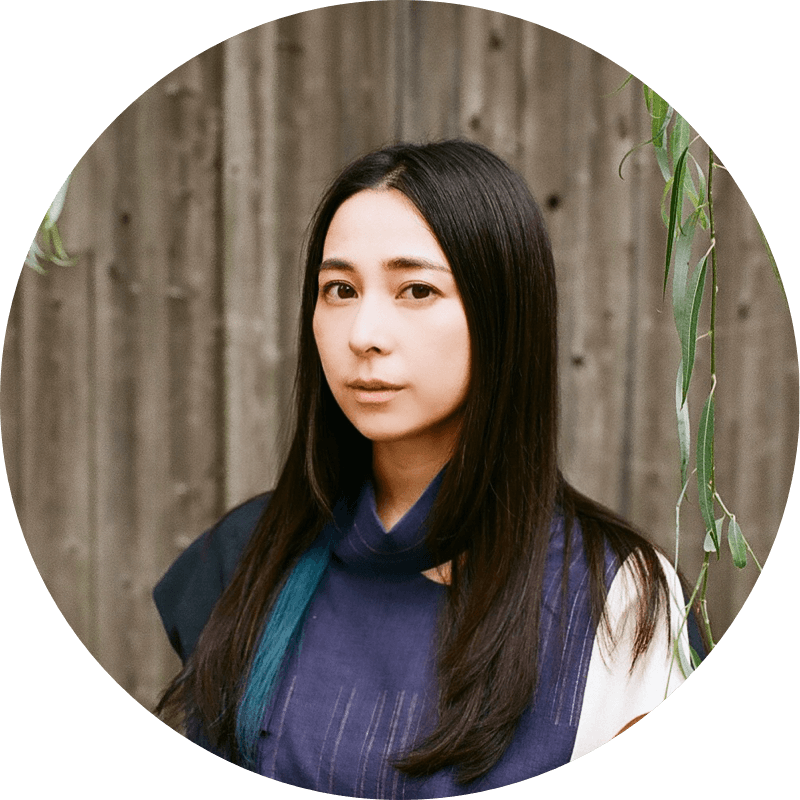 Yuna Okanishi
Chirographer / Artist
Started chirography at the age of seven and studied with Shunko Tochigi. Became licentiate while going to high school. Studied ink painting with Gyokusei Sekizawa.
As a chirographer, she ushers and infuses spirit into characters and express eidetic image and rhythm. She has won many awards inside and outside Japan.
Her faith in creative activities is to seek "curvy beauty" in nature by chirographic technique. She also believes in the Zen philosophy of "Oneness" which would lead the reconciliation of human and nature, and also a key to the world peace.
Presented "Blue Songs – Red Sensation as a beginning" at contemporary art scene under the theme of Attunement.
"Blue Songs" depicts beautiful, graceful and curvy swimming trajectories of the sharks in blue ocean on earth while "Red Sensation as a beginning" expresses the red magma of the earth as human passion. She gives full effort to draw lines to show deep concerns to global environment issues and world peace.
Cooperation for United Nations in new production called "Mantra," she has started the art project of changing the world with the power of art "Return to True Blue– Mantra" as her lifework.
Being invited many art events and festivals inside and outside Japan for live performances, she has presented a new way of introducing chirography.
She is an artist member of The Japan National Committee for UN Women, and has participated in many UN Women activities.
Aside from her artist practice, she teaches children the value of life through calligraphy and hosts Japanese calligraphy classes at elementary schools as a volunteer.

《Personal Exhibitions》
・Solo show, Mitsui Tower, Art Project ʻMantra' , Nihonbashi , March 2019
・Solo show, Whitestone Gallery, Ginza, Jun July 2018
・Solo show, Whitestone Gallery, Karuizawa, January 2018
・Solo show, Ginza, Gallery Yoshii, October 2017
・Solo show, SEIBU Ikebukuro department store, April 2016
・Solo show, SEIBU Ikebukuro department store, January 2015
・Solo show, SEIBU Ikebukuro department store, December 2013
・Solo show, Galleria Daikanyama, October 2012
・Solo show, Mejiro Gallery Nobori Mansion, August 2011
・Solo show, Ginza Gallery Musashi, July 2010

《Awards, Exhibitions 》
2019
・Tianjin Art Museum public collection (Tianjin)
・Academic forum of Japanease-Chinese Creative Design Tianjin, Beijing)
・Dong Gallery Taipei x Whitestone Gallery Project No.6 shows "Blue Songs" (Taipei) ・ART CHENGDU 2019 (CHENGDU)
・Art Central Hong Kong 2019, March 2019 (Hong Kong)
・Back to Originality and Simplicity: Japanese contemporary Ink exhibition (Taipei)
2018
・ART021 SHANGHAI CONTEMPORARY ART FAIR (Shanghai)
・NANJING YANGIZE CONTEMPORARY ART FAIR 2018(Nanjing)
・KIAF 2018 ART SOUL[Korea International Art Fair](Korea)
・ART SHENZHEN 2018 (shenzen)
・Art Central Hong Kong 2018 (Hong Kong)
・Group Exhibition "Break ZENYA",Bunkamura Gallery
2016
・Sesshu Art Association Special Exhibition (Istanbul)
2015
・Sesshu International Art Association Exhibition, The National Art Center,2015(Special award) (Tokyo)
・Traditional culture award, (Food Culture Award) (Tokyo)
・Possibility of Sho (calligraphy), Sesshu International Art Association Special Exihibition,Tokyo Metropolitan Art Museum, (Audience Award) (Tokyo)
・9eme Rencontre Artistique Monaco-Japon 2015, (Rose De Monaco Award)(Monaco)
2014
・Sesshu International Art Association Exhibition, The National Art Center (Tokyo) ・Le Salon, November 2014. (Paris)
・Eglise de la Madeleine – Prayer Art Exhibition (Madeleine)
・Great East Japan earthquake reconstruction project art festival, the 19th Oasis 2014,
2010 ~ 2013
・Sesshu Art Association Exhibition, The National Art Center,
・-Soar- the 9th Flower Festival Exhibition, 2012 (Tokyo)
・Shanghai Art Festival, 2010 (Shanghai)
Photo by Kotori Kawashima